Top Ten Tuesday is hosted over at
The Broke and The Bookish
.
Today's topic is: Top Ten Books on My Winter To-Be-Read List
1. Emma by Jane Austen
(isn't this an awesome cover?)
and
2. Persuasion by Jane Austen
because I have got to finish what I started! After I'm done with
Tale of Two Cities
I'm going to jump back into the world of Austen and finish up the last two books.
3. Allegiant by Veronica Roth
4. The Night Circus by Erin Morgenstern
This one's been in the back of my head for a while. I recently found Ms. Morgenstern's blog, and reading
that
made me want to read her book even more!
5. The Woman Who Died A Lot by Jasper Fforde
Somehow, when I was on my Fforde kick this past summer, I never read this book.
6. Monstrous Regiment by Terry Pratchet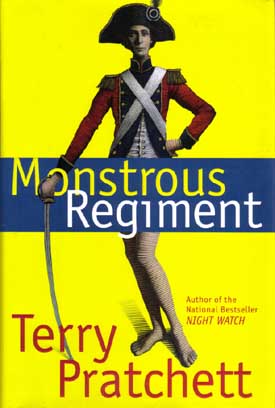 I'm going to see my all-time-favorite Lifeline Theater perform an adaptation of this in the spring, and I've just got to read it beforehand. (I'm also going to see their
Tale of Two Cities
in January!!)
7. The Book Thief by Markus Zusak
This is another one that's been floating around the back of my head for a while.
8. The Fault in our Stars by John Green.
9.
The Perks of Being a Wallflower
by Stephen Chbosky.
It's been on my TBR since before the movie and I just haven't gotten around to it.
10. The Harry Potter books by J. K. Rowling
Though I haven't ever read the last book, I'm planning to start from the beginning of the series as a refresher.
What are your winter reading plans?
~Sophia