As always, hosted by the lovely ladies at The Broke and the Bookish.
(Covers link to Goodreads.)
Today's topic is Top Ten Books I would like to reread. Sigh - this is going to be hard to narrow down to ten!
1.
The Chronicles of Narnia
by C. S. Lewis
.
I used to reread these books every half year or so. I really need to get back into them!
2. The Harry Potter books by J. K. Rowling.
I've only read these through once (and never got to #7!) and that was a good five years ago. Definitely deserving of a reread.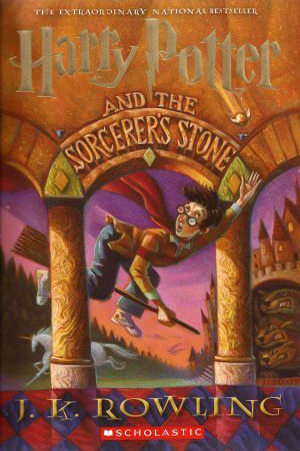 3. The Lord of the Rings by J. R. R. Tolkien.
This has been an even longer separation than with HP (though I have seen the LOTR movies twice over in the hiatus). Perhaps next summer can be the Summer of Classic Fantasy Rereads? *whispers* Who would join me?
4. The Five Children and It
by E. Nesbit.
My mother just got two copies of the edition with the fantastic illustrations by ____ - one copy for a present, and one for us to keep and cherish. :-) Now it beckons to me every time I sit down at my desk.
5. The Eyre Affair by Jasper Fforde.
I just need to revisit this genius again.
PSA: Every person who has ever dreamed of going to Bookworld and meeting their favorite characters - read the Thursday Next books by Fforde. You will not regret it.
6. Joan of Arc by Mark Twain.
This book. Who knew that Mark Twain wrote a book about a Saint - took fourteen years to write it - and considered it his magnum opus?
7. A Tree Grows in Brooklyn by Betty Smith.
I read this when I was thirteen. It was the most perfect book for a thirteen-year-old-Sophia.
8. The Little Prince by Antoine de Saint-Exupery.
Genius Child Wisdom.
9. The Tales of Winnie the Pooh by A.A.Milne.
More Genius Child Wisdom.
10. The Prydain Chronicles by Lloyd Alexander.
Okay. IT'S OFFICIAL. Next summer is MOST DEFINITELY AND OFFICIALLY
The Summer of Classic Fantasy Rereads
What are books you are looking forward to rereading? And will you join me in making Summer 2015 a great epic fantasy adventure? :-)
~Sophia
PS.
There are so many more books on my reread list: The Book Thief, Code Name Verity, The Raven Cycle and a lot of other book I've read this past year. However, I felt books that I've neglected for a very long time (three years or more) deserved to be featured more prominently. SUCH CHALLENGING DECISIONS