Boy, it felt good to breeze through a book. I'm getting tired of month-long projects.
I read
Ender's Game
in a weekend. You know what that means?
It means the approach of freedom.
It means Summer is coming.
The amount of time it takes for me to read a book is directly proportional to the amount of homework I have. Homework is lessening. I have more time for reading.
Yippee!!
Anyway, let's talk about
Ender's Game
.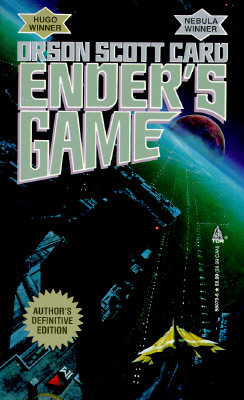 Ender's Game is set in an alternate version of our world. We have expanded into the universe and are fighting with aliens that we call "buggers." We've already had two major Invasions, and we are preparing for the Third Invasion.
Ender is a six year old boy genius (SIX. I love it. But we'll talk characters later.), who is chosen to save our world from the buggers. He is taken from his family - from his dearly beloved sister - to be trained in semi-isolation in the space-station Battle School, where future space soldiers learn tactics and fighting.
Let's digress a bit and talk about the lessons. They train in zero-gravity ("nullo," they call it), which I would LOVE to try. I love this idea of zero-gravity so much that I had a dream about it and was trying to employ the techniques that Ender was using in the book. WAT.
Now then:
(The whole concept of nullo, obviously. But besides that.)
The fact that Ender is SIX. He has the brain of someone much older, but still, he is SIX (in the beginning, at least). A character so young is so unconventional, and I love it. For most of the book, he is not even a tween. It's great. It also makes it hard to picture him as a little kid, because his vocabulary and his mental processes are just so above that age, and I had to keep reminding myself as I read.
I also loved the detail about the technology and the techniques that Ender and his fellow students learned. Hey, it allowed me to dream about it better! :-)
I felt so bad for Ender throughout the whole book. I wanted to give him a hug, say, "Don't worry, you can cry on my shoulder, I'm not trying to use you, I just want you to be happy!" And then when I read this...
"We have to go. I'm almost happy here... I've lived too long with pain. I won't know who I am without it."
...my heart broke for him.
Ender had never known a life of happiness, a life where there wasn't someone, somewhere, who was in control of him.
Oooh ooh let's talk about the ending!
Man, was that a superb twist! It just jumped on me out of nowhere (the same way it did on Ender, except I wasn't QUITE as emotionally involved), and gave me tingles, the way good twist endings do. And the final chapter tied it up neatly, in an epilogue sort of way, where it didn't feel rushed but dealt with practically every loose end.
One confusion I had with the ending, but it involves a spoiler, so... (Highlight to reveal spoilers)
Did the other kids - Petra, Alai, Bean, etc - know that it wasn't a game? Did they also think that they were just piloting little dots of light on a screen? Wouldn't they be just as freaked as Ender? And if they DID know - wait, is that even LEGAL? I don't get it. Don't they deserve just as much pity as Ender? They were fighting real things too. They were killing and destroying real beings too. They probably will have a decent amount of PTSD. Darnded I.F.. I hate them, ruining little kids like that. Yeah, yeah, I know they saved the world. STILL.
If you can please clear up this confustion, I'd appreciate it. Just give good spoiler warnings in the comments so no one else gets spoiled. :-)
What I Didn't Love So Much
The one thing I didn't exactly like was that Card's writing occasionally slips into telling, instead of showing. In fact, this happens more than occasionally. It makes some sense, since the book spans a good number of years, but still, it can dull the reading.
Ender's Game was a fun book. It was clever, it was funny, it was engaging, and it was deep. It dealt with intense issues in a non-intense way. It surprised me with it's plot and with its characters.
Now to read the rest of the series... I've heard different things about which books to read next - Ender's Shadow? Ender in Exile? Or a different one? What do you think? Which order do YOU think is the best?
~Sophia